....WAWA bracelet | Yellow gold..Bracelet WAWA | Or jaune....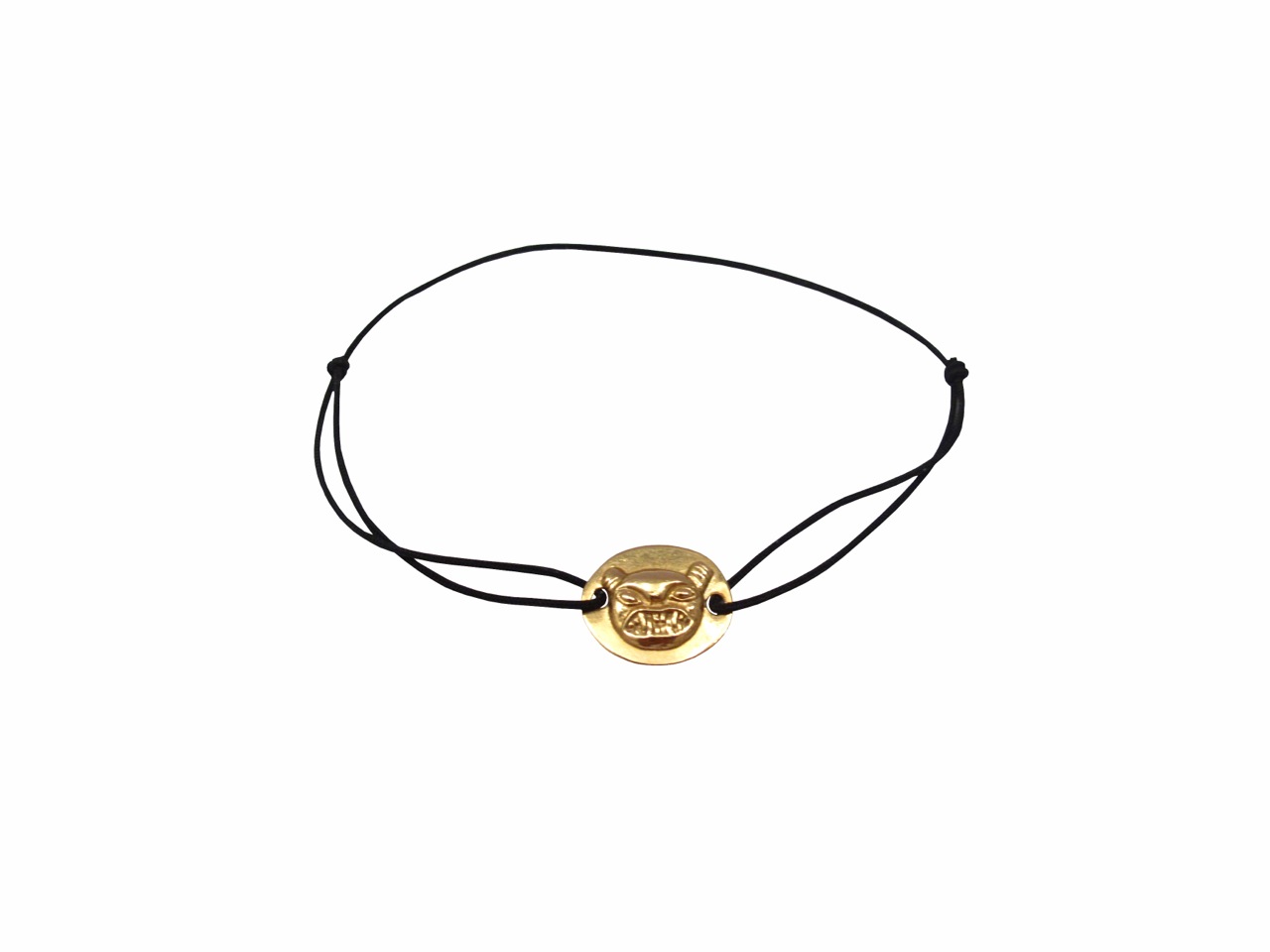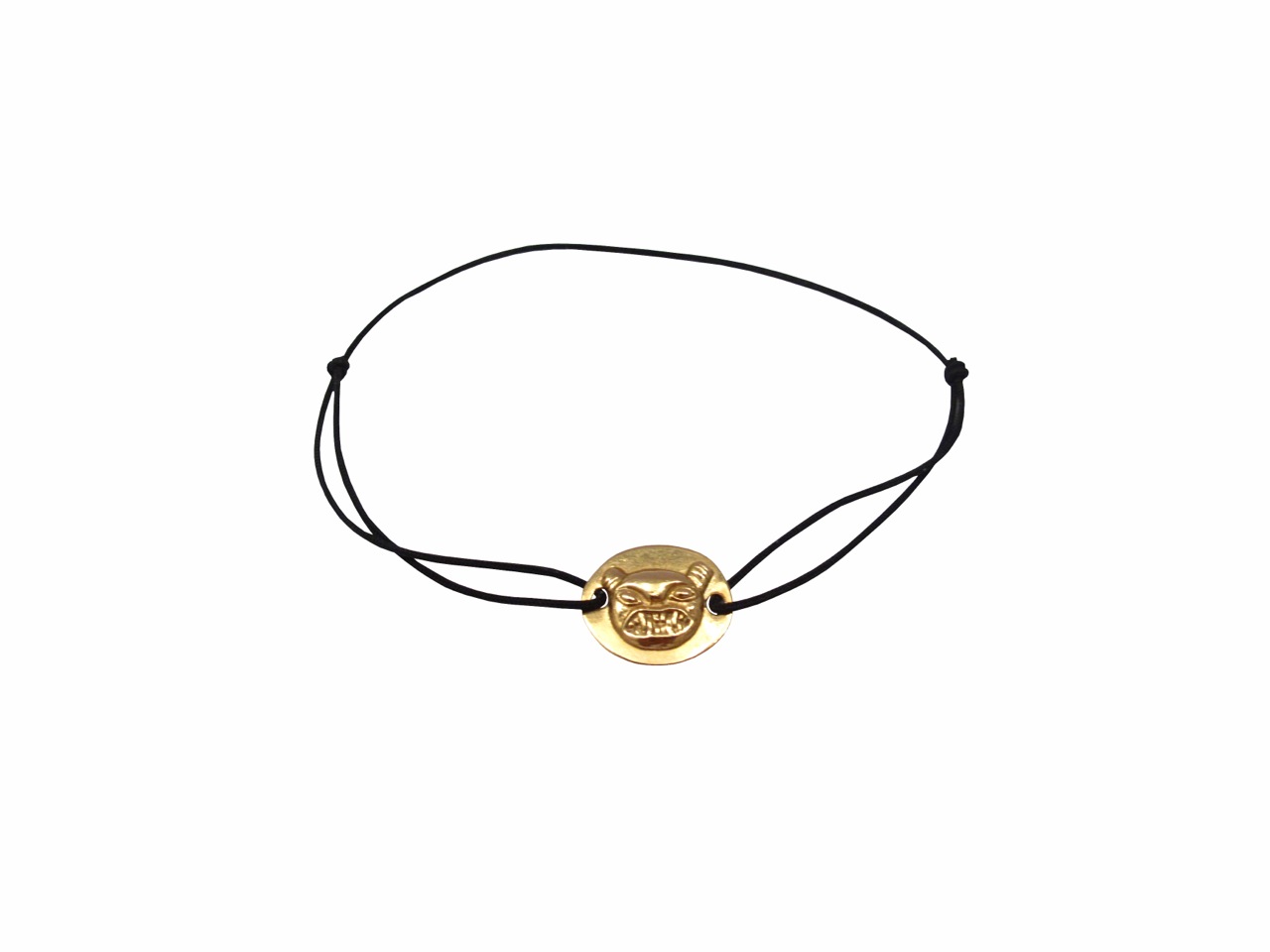 ....WAWA bracelet | Yellow gold..Bracelet WAWA | Or jaune....
....
18 carat recycled yellow gold and very resistant black nylon thread
Width : 1,5 cm
Manufacturing time : 4.30 hours
Sliding knots adjustable closure
For both men and women
Entirely handcrafted at the Motché workshop in Peru by dedicated artisans
Each yellow gold piece is stamped with the quality mark "18K" & the designer's hallmark. This bracelet comes in a box with pouch & Certificate of Authenticity.
..
Or jaune recyclé 18 carats et fil nylon noir
Diamètre jaguar : 1,5 cm
Temps de fabrication : 4h30
Taille ajustable - noeuds coulissants
Bijou entièrement façonné à la main par un artisan péruvien
Ce bijou en or jaune porte le poinçon de garantie "18K" ainsi que celui du créateur. Il est livré dans un écrin avec pochette et certificat d'authenticité.
....
....
Inspiration
MOTCHÉ PARIS-LIMA finds inspiration in the motifs present in the rich iconography of pre-Hispanic societies : geometric forms, magical bestiaries and ritual reenactments evoke Andean beliefs and the rites associated with them. This talismanic piece of jewelry represents the agile and powerful jaguar, a symbol of the earthly world inhabited by plants and animals. The jaguar was venerated by the societies of ancient Peru, who believed it protected and guided humans.
Motché jewelry
MOTCHÉ PARIS-LIMA combines specialist scientific knowledge with rare ancient technologies to create exceptional jewelry. After several years of research, Motché's founder and designer, Carole Fraresso, based her doctoral thesis on Andean metallurgy. The young archaeologist decided to settle in Peru and, in the intimate setting of museum collections, inspired by the most beautiful international collections, she embarked upon the task of designing her first pieces. She designed her first exclusive collection of jewelry for Lima's Larco Museum, reinventing the concept of pre-Columbian jewelry making.
One of the techniques employed by MOTCHÉ PARIS-LIMA is the working of thin sheets of gold and silver (less than 1 mm thick), worked by hand and shaped through embossing, a process involving skill and delicacy gained from many years of experience. The jewelry created using these methods is defined by its lightness, facilitating the combining of what are often imposing dimensions with great mobility in terms of form.
Sustainability
MOTCHÉ PARIS-LIMA chooses to operate in workshops designed on a human scale, supporting dedicated local artisans who are the repositories of ancient manufacturing techniques. Production is limited because of the time and care invested in their craft by our metalworkers and gem cutters, who are among the few who still practice these ancestral trades.
You may also like
..
Inspiration
MOTCHÉ PARIS-LIMA s'inspire de la richesse iconographique des sociétés préhispaniques, de ses motifs inlassablement reproduits sur les vestiges archéologiques : des dessins géométriques, un bestiaire magique, des mises en scènes, qui renvoient aux croyances et racontent les rituels. Ce bijou talisman représente le puissant et agile jaguar qui symbolise le monde de la terre où poussent les plantes et où habitent les êtres vivants. Animal vénéré par les sociétés de l'ancien Pérou, il protège et guident les hommes.
Joaillerie millénaire
MOTCHÉ PARIS-LIMA conjugue une expertise scientifique unique à des savoir-faire devenus rares pour produire des bijoux d'exception. Après plusieurs années de recherches, Carole Fraresso soutient sa thèse en métallurgie andine. La jeune archéologue décide alors de s'installer au Pérou et, dans l'intimité des réserves des musées, inspirée par les plus belles collections internationales, elle commence à dessiner quelques parures. Elle crée sa première collection exclusive de bijoux pour le Musée Larco de Lima et réinvente le concept de joaillerie précolombienne.
Une des techniques privilégiées par MOTCHÉ PARIS-LIMA est le travail de la feuille d'or ou d'argent (< 1 mm d'épaisseur), ajourée à la main, façonnée par repoussé, impliquant une dextérité et une délicatesse qui ne s'acquièrent que par l'expérience de plusieurs années. Les parures ainsi obtenues se caractérisent par leur légèreté, qui permet de combiner des dimensions parfois imposantes à une grande mobilité des formes.
 
Des valeurs responsables
Recréer les codes des rituels andins à travers la parure implique la prise en considération d'une conduite juste et responsable qui s'inscrit dans une démarche commune de sauvegarde d'un des patrimoines les plus prestigieux du monde. MOTCHÉ PARIS-LIMA fait le choix de travailler dans des ateliers à échelle humaine et soutient des artisans passionnés, dépositaires de savoir-faire millénaires. La production est limitée, car imposée par le façonnage des mains d'orfèvres et lapidaires qui sont parmi les derniers à exercer ces métiers.
Dans la même collection
....